Design & production of the first visitor centre of Better Place in Europe

. ​​​​​​​The main concept of the 1000 m2 exhibition is the use of green technology shaped by green interior architecture. The space was designed to create an emotive trip that invites visitors to explore, play and learn about sustainable vehicles powered by electricity from renewable sources
The installation uses innovative technology and lighting to illustrate the captivating phenomenon of transforming electricity from renewable sources into transportation. As a narrative element, interactive installations are used to unveil information related to energy, environment, economics and electric cars, all shaped in a relaxing and inspiring environment.
Using camera tracking and directional sound, interactive mirror cubes change from mirror mode to screen mode displaying animated content about the use of electric vehicles.
Core objectives of Better Place and information related to electric vehicles is displayed on a wooden wall by a number of RGB LED lights that create a sequence of messages.
A cylindrical cinema for up to 20 people is one of the main features of the space. The cinema is operated by a wire system which hoist the cylindrical wall up and down. The cinema and all the audio visual elements of the exhibition are operated remotely.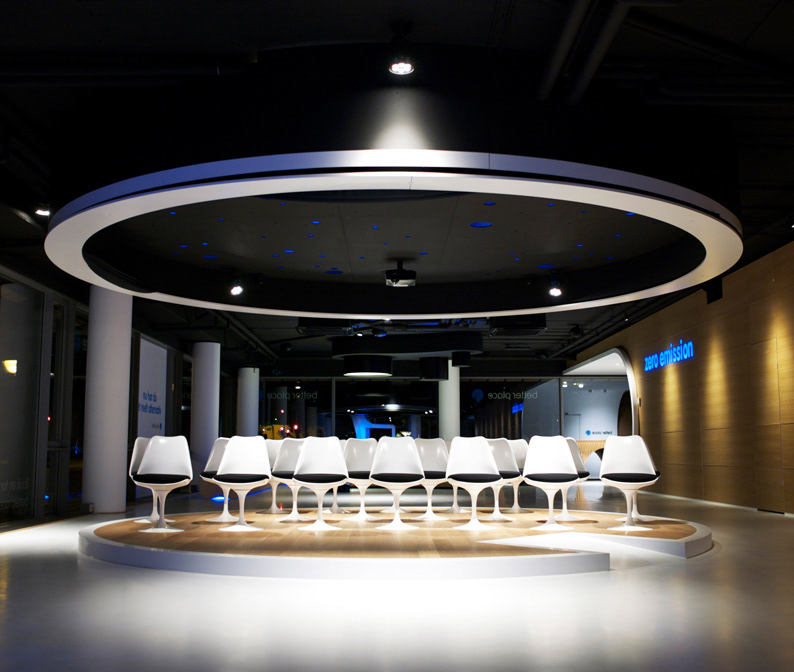 Interactive touch screens and models illustrating the components of the Better Place infrastructure are all part of the exhibition.
Apart from conveying the Better Place messages, the installations and interior architecture have a functional purpose, providing furniture and spaces for visitors to meet, play around or just relax.
Better Place Visitor Centre / Copenhagen