Public areas for the new KPMG's headquarters in Copenhagen​​​​​​​. The main concept of the spaces is to bring the Nordhavn area indoors. Branding installations, specially designed furniture, natural textures and innovative technology and lighting are all integrated with the idea of unveiling the new branding proposition of KPMG in Scandinavia. Entrance, reception and waiting areas are all designed in an inspiring nordic way, providing a calm, inviting and atmospheric environment for employees and visitors.
Entrance:

a series of solid wood slats conform the path that leads to the main reception. As visitors enter the building, the 2 initially prominent digital KPMG logos disappear and are transformed into almost invisible blue lines.
'THE VIEWER' CLIENT LOUNGE: Pebble chairs, natural acoustic panels and a wooden deck are combined for this corporate uplifting experience that brings water and sky indoors. The apparent small room opens up to a great view of an open sea-sky blend. 'The Viewer' is open, beautiful, warm and calming.  
KPMG CLIENT LOUNGE 2: While sitting on an especially designed sofa made in solid Oak, visitors can see an Aluminium world map with pulsing LED lights that indicate the company's branches worldwide. The sofa allows 2 different settings: an upright side for short informal meetings and a low sofa for a more personal experience. 
We made a chandelier for the central atrium of the building with 7 giant lamps. The lamps are made with natural goose feathers and are 1,20m diameter each.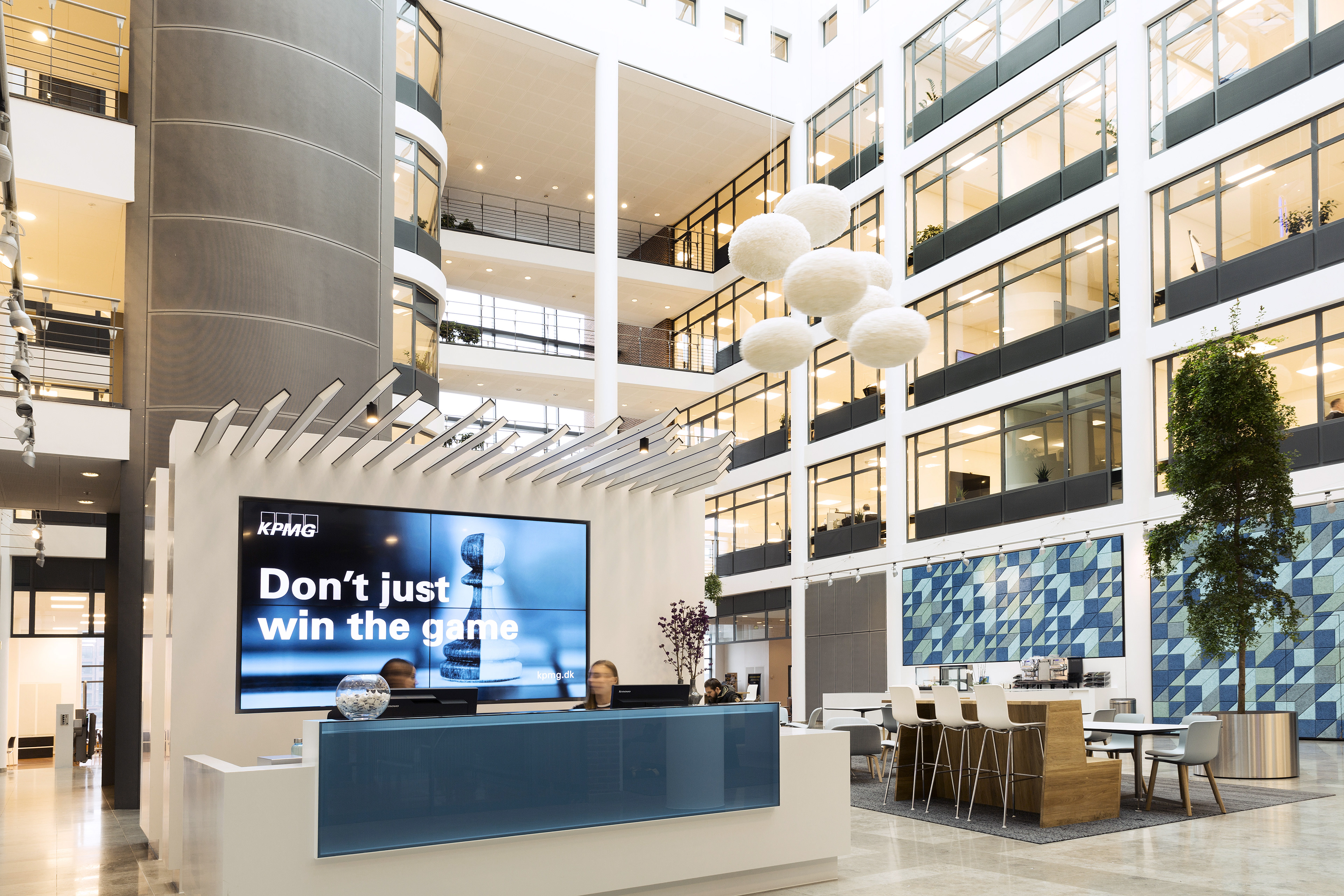 We used acoustic geometric tiles to create a multi textured feature wall that represents KPMG's idea of globalisation, innovation and development.
More multi-purpose one off pieces were specially designed for the installations.